This is such a fantastic slow-burn, heart-warming, heart-racing, passionate romance of a grumpy hero who will have your heart racing, and a delicate and sweet rose. It's the perfect fake-relationship and marriage of convenience story! Their love story wasn't in the cards, but hallelujah that it ended up happening!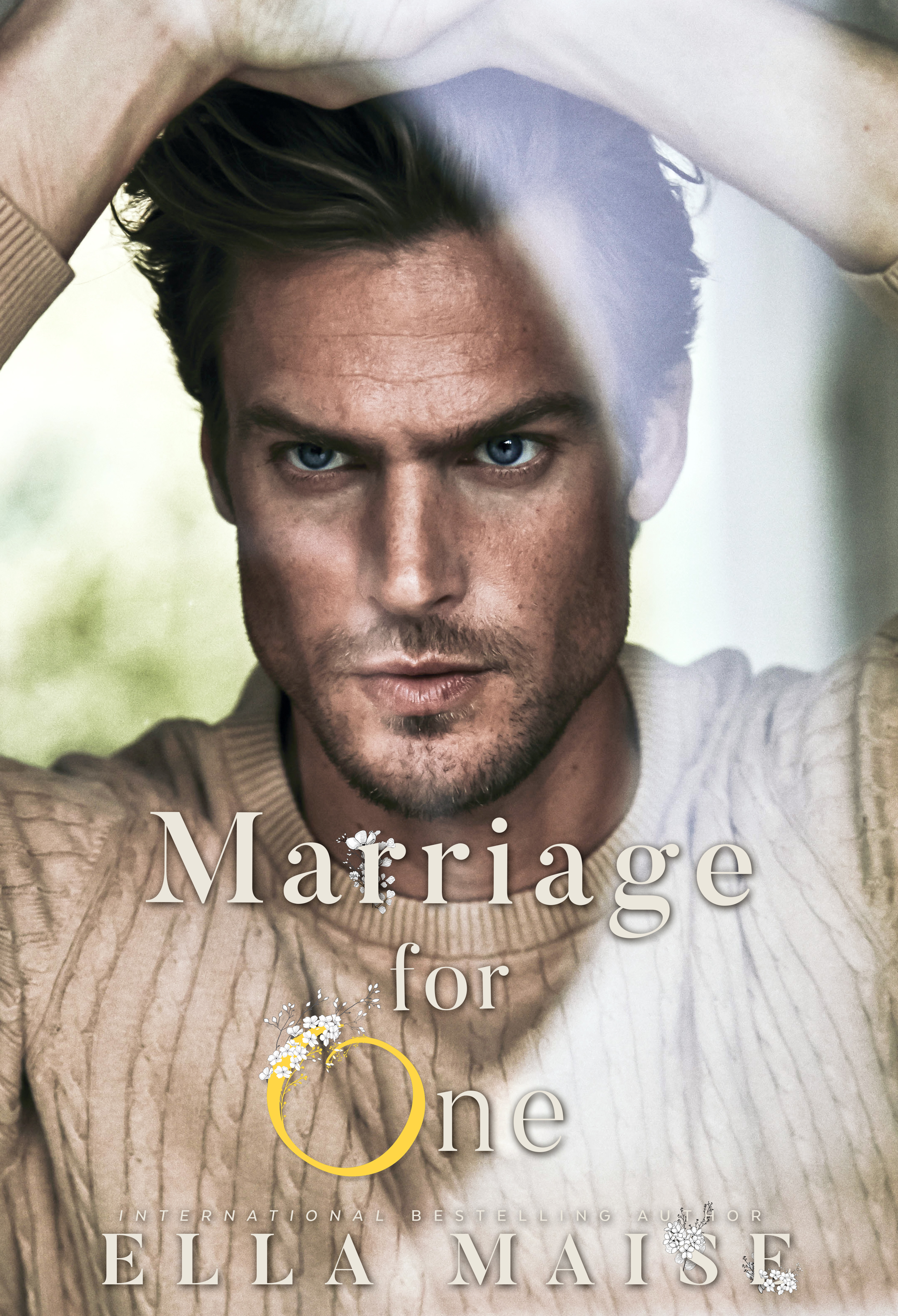 MARRIAGE FOR ONE


by Ella Maise
Genres: Contemporary, Romance
Publication Date: May 9th 2019 by Self-Published
Format: eBook
Rating:
★★★
★★ (#1 Top 2019 Fave)
Goodreads | Amazon
Jack and I, we did everything backward. The day he lured me into his office-which was also the first day we met-he proposed. You'd think a guy who looked like him-a bit cold maybe, but still striking and very unattainable-would only ask the love of his life to marry him, right? You'd think he must be madly in love.

Nope. It was me he asked. A complete stranger who had never even heard of him. A stranger who had been dumped by her fiancé only weeks before. You'd think I'd laugh in his face, call him insane-and a few other names-then walk away as quickly as possible. Well…I did all those things except the walking away part.

It took him only minutes to talk me into a business deal…erm, I mean marriage, and only days for us to officially tie the knot. Happiest day of my life. Magical. Pop the champagne… Not. It was the worst day. Jack Hawthorne was nothing like what I'd imagined for myself.

I blamed him for my lapse in judgment. I blamed his eyes, the ocean blue eyes that looked straight into mine unapologetically, and that frown on his face I had no idea I would become so fascinated with in time.

It wasn't long after he said I was the biggest mistake of his life that things started to change. No, he still didn't talk much, but anyone can string a few words together. His actions spoke the loudest to me. And day after day my heart started to get a mind of its own.
One second he was no one. The next he became everything.

One second he was unattainable. The next he seemed to be completely mine.

One second I thought we were in love. The next it was still nothing but a lie.

After all, I was Rose and he was Jack. We were doomed from the very beginning with those names. Did you expect anything else?
Being married to Jack Hawthorne had turned out to have its own advantages--apart from the broody eye candy and the almost daily arm porn, I mean.
When Rose meets Jack, he immediately proposes her, but not for the reasons you may think. Rose had just been dumped by her fiance and here was this stranger asking for her hand in marriage. You'd think he was in love, but no.
He was the coldest man Rose had ever met
and she regretted getting married when she did. Jack was a man of very few words but Rose could see
in his actions how he cared for her
and in time, she started getting fascinated by this grumpy man. But with those names, they were doomed from the start.

Her lips curved up slightly, and my eyes focused on that. Her smile was what had gotten me into this mess that first time we were introduced.
How do I make this book justice?! I can't even begin to tell you guys that this book was amazing!
Ella is such a hidden gem in the romance world
and she needs the entire world's recognition! This book... Just wow. She completely blew me away with her creative writing and the wonderful story she created. She created Jack and just for that, I'll love her forever!
"I studied his face, his beautiful but angry eyes. He looked so good in a tux, so unattainable, yet there he was, not mine but still holding me up."
I love grumpy heroes who are really a softie on the inside.
Jack is rugged, stern, serious, always frowning and/or scowling
.
Like Rose, I was counting those smiles
and eagerly waiting for one of them to appear. I love that despite him being this way, someone who seemed so unattainable to Rose, someone so high up it was impossible to reach his level,
he's also soft around the edges, quite vulnerable, and loyal
. Only three people, including him, know the real reason why he proposed to Rose and he's scared for the truth to come out before he's ready. Thankfully, that's the only thing he kept from Rose. He's always so honest with her with everything else, which makes for some funny declarations, but also some sweet and
endearing declarations that would slowly melt my heart
!
"I want to be the person you lean on. You and I, we're the same. We have no one but each other.You'll lean on me and I'll do the same. We'll learn how. We're in this together."
Rose was such a smiling and adorable heroine, completely opposite to Jack
. She's such a strong woman that has to deal with the situation she was put in by her family and Jack. And when she tackles it all head-first, it proves she's willing to do anything to achieve
her dreams, which is to open up a coffee shop
. I loved reading about her when she was in the coffee shop, but through Jack's eyes. I have a vivid picture in my head right now of when Jack is looking at her in the coffee shop and she's all smiles and looks like she belongs there. That place is her baby. And she wouldn't have it any other way, even if it meant a
marriage of convenience with a grumpy man
. But she's able to enjoy all these details that come with this marriage that had eyes in hearts, like Jack's arm candy, when Jack smiled for the first time, I think my heart skipped a beat or two.
Jack buying bouquet of natural flowers for her coffee shop tables when he found out she couldn't afford them
. Sure, he'd deliver them with such a scowl on his face, but he was always there to give Rose those flowers.
When he'd call her "My Rose"
, my heart would get in a frenzy.
I especially loved when things slowly started to progress from 'pretend' to 'real'
and how these two amazing characters started to explore this new phase of their lives together.
My husband was perfect. With all his arrogance and prickliness, Jack Hawthorne was perfect for me. He wasn't what I'd had in mind or even what I'd wanted for myself, but he was perfect...
Overall, Marriage for One was 100% perfect. Ella created a story I want to dive in over and over again, created characters I will forever cherish in my heart (especially Jack). Marriage for One is a tantalizing slow-burn romance with a marriage of convenience that will have you turning the page faster than you can say, "I do". It's full of teasing from Rose's part, scowling from Jack's part, but also, moments that will warm your heart, will make you fall hard for everything in this story. It's full of endearing declarations that will have you melting and wanting a Jack in your life!
DO YOU LIKE FAKE-RELATIONSHIP AND/OR MARRIAGE OF CONVENIENCE TROPES? IF SO, WHICH BOOKS ARE YOUR FAVES?
Follow Me: